Avast virus definitions help your computer to protect from online threats and new threats. However, due to some reasons, these libraries do not get updated thus resulting in errors like "Virus Definitions update failed. Downloading of VPS Failed. or other similar types of issues.
Avast is a well-known antivirus program that protects your mobile, Computer, Mac, or any other device from online threats like viruses or malware. The Antivirus program is also responsible for protecting you from visiting phishing websites, Block Malicious URLs,  Download virus-infected Softwares/ files, or even from other threats. Sadly, there are many errors or issues that Avast users constantly face while using the program on their computer. One such issue is Avast antivirus could not update virus definitions. This article will help you to understand the causes and solutions to this common issue.
Why does the Virus Definitions Update fail?
The most common reason for Virus Definitions are not up to date error to appear on your antivirus program is due to Bug in the Avast program files, Outdated Avast Antivirus Software, Broken code/ corrupt files. Due to these and other reasons you might encounter the error. Below we are listing some of the common error types generated due to similar reasons.
Virus Definitions update failed. Downloading of VPS Failed
Virus Definitions are not up to date
Avast antivirus could not update virus definitions
If you see any such error message appearing on your Avast Dashboard, the changes are, these issues are caused by a similar type of bug or reason and you can easily solve this by following any given method.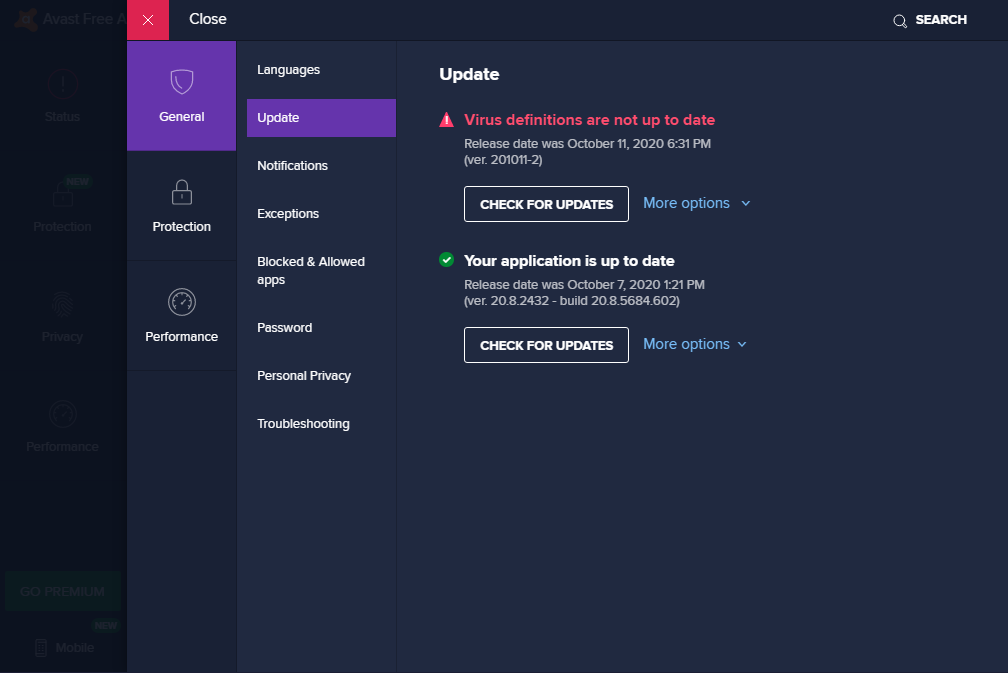 Methods to fix Avast antivirus not updating virus definitions
We have already found a few workarounds for this issue that might help you to update your Virus Definition library and get rid of this error. These are the methods that are mentioned on Forums and troubleshooting websites that are known to work. However, before proceeding further make sure that you have a working internet connection.
Update Avast Antivirus to the latest version
If you are using an outdated version of Avast antivirus them you should immediately update it to the latest version available on the official website. The issue was caused due to a bug that was fixed in version 6.16 and later. Downloading and installing an updated copy of Avast will help you to solve this problem.
Avast provides you an easy inbuilt tool to automatically or manually update the Avast Antivirus copy. Following these steps, you will understand the process of updating Avast manually.
Step 1: Launch Avast Antivirus on your computer and click the Menu option given at the top right corner.
Step 2: From the Drop-down menu, click Settings.
Step 3: Under the Settings option, click the General tab from the left pane and select Update.
Step 4: Inside the update tab, Click the Check for Updates button and wait until the process is completed.
Step 5: If the updates are available, The program will automatically detect and install them on your system.
Step 6: Finally, Restart your computer and open Avast Program to see if the issue is resolved.
Repair Avast Antivirus Program
If the above method is too lengthy for you or does not help you to update the program then avast offers another tool that can perform some basic repair tasks and eliminate any corrupt code or bug. These are the steps to repair the antivirus program using the default Avast repair tool.
Launch Avast on your system and click the Menu option given in the top-right corner.
From the newly appeared drop-down menu, select Settings.
From the left pane, select General >> troubleshooting.
Under Troubleshooting, Scroll down and click the Repair App option under Still having problems? section.
Click Yes on the following popup window and wait until the scan is complete.
Finally, Click the Resolve all button to download the updated copy of corrupt files inside the program.
Restart your computer.
Uninstall/ Reinstall Avast
If both the given methods fail to resolve the Avast antivirus not updating Virus Definitions issue then you might have to try this method. Due to a lot of bugs or corrupt files that are not automatically repairable, You will still see the same error appearing on your screen. The final way of resolving this issue is by completely uninstalling the Avast Antivirus program from your computer and downloading a fresh copy from the official source.
Click the Windows Search bar and type "Control Panel" Click the first option that appears.
Under Control Panel, select Program & Features.
Scroll through the list of Installed Softwares and click on Avast.
Click the Uninstall button and follow the Wizard till the process is complete.
Finally, Restart your computer and download Avast from here.
Summary!
These are the methods that will help you to update the virus definitions inside the Avast Antivirus Software. As mentioned earlier, Updating the existing software copy using the inbuilt tool will quickly help you to solve this issue. However, you can also try uninstalling and reinstalling avast to avoid any corrupt or broken code file problems.
If you still have any questions then let us know by commenting below.