Looking to decide between cable TV and online streaming? This article is for you. Gone are the days where the family would be facing a TV together to catch the HBO special or 9 o'clock bulletin. So, if you're bungled with the choice between the two, this article can help you decide.
Cable TV has been mainstream for quite some time that we thought it'd be the ultimate gateway for entertainment. Nowadays, the trend is moving towards streaming services from Pay tv. Many users are switching to streaming networks and cutting the cords globally. A huge rise in cord-cutting trend is seen in Canada in the last decade especially in the time of the Pandemic. Right now, more than 50% of Canadians have already shifted towards the streaming platform.
Even without a cable tv subscription, users can still enjoy live tv shows or streams without any trouble rather with added features. For example, we can watch live channels online on Sling TV in Canada at a very reasonable price and with a lot of added features like discounts, DVR, a variety of channels etc. We can stream on-demand videos on Netflix, Hulu, Amazon Prime Video and many more. The internet age gives us better avenues of comfort and choices. Even so, cable TV has its charm.
In this article, we will compare Cable networks and Online Streaming TV, and you get to decide the one for yourself. A fun exercise would be to take a paper, draw a line in the middle and tick whichever of the 5 points appeal more to you. The result would get you the perfect keeper. Let's get started: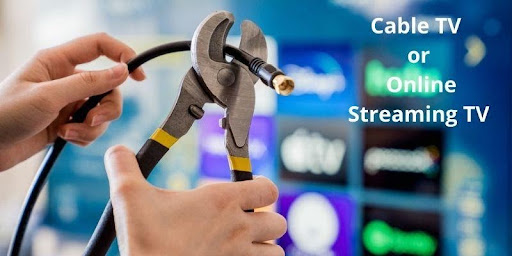 The foundation of any new purchase begins with analyzing the cost. Mostly it is the cost-effective choice that comes home. When it comes to cable TV, we have services like Xfinity, Spectrum, Cox, Sparklight, Suddenlink, etc. For live TV, we have options like YouTube TV, Philo, Hulu + Live TV, Sling TV, etc. We list the prices as follows:
| | |
| --- | --- |
| Cable Live TV | Streaming Live TV |
| Spectrum: $44.99–94.99/mo. (125–200+ channels) | YouTube TV: $64.99/mo. (100+ channels) |
| Xfinity: $49.99–$89.99/mo. (140–220+ channels) | fuboTV: $64.99–$74.99/mo. (109–156+ channels) |
| Cox: $25.00–$69.99/mo. (75–140+ channels) | Sling TV: $35.00–$50.00/mo. (30–50+ channels) |
| Suddenlink: $79.99–$129.99/mo. (225–290+ channels) | Philo: $25.00/mo. (63+ channels) |
| Sparklight: $15.00–$84.00/mo. (27–100+ channels) | Hulu + Live TV: $64.99–$70.99/mo. (70+ channels) |
Looking at this table, we can see some good and reliable options that are cheaper as well like Sling TV. Just pick out whichever you find best on price and channel choice and let's move on.  If it is up to us, we would crown streaming live TV as the winner
There is a big competition in this category. In the table listed above, we saw the number of channels provided in each category. If you love to have a variety of live channels to stream, cable TV is the way to go. In cable TV, you can see Suddenlink with over 290+ channels at a maximum price of $129.99 (163.22 CAD). The best you can get in streaming TV is 156+ channels at 75$ (94.17 CAD). It seems like Cable TV is a clear winner for this category if the number of channels matters to you.
Video quality is a hard compromise and should be considered beforehand. If we look at live TV, we are given options between different resolutions like 720p, 1080p, 4K, etc. The pricing option also varies accordingly. Nowadays, streaming services also give options of 1080p, 4K streaming.
The real difference lies in the custom set choice for video quality. For example, if you're on a streaming service like Netflix and you're facing low bandwidth in Wi-Fi, you can set it to lower video quality. This feature comes in handy in many spaces and therefore, if it were up to us, we would opt for a streaming service in this category.
If we look at the contractual obligation of TV vs Streaming, it will clear a big difference. No streaming service traps people with annual contracts and the monthly-payment structure is followed. Sometimes the incentive of canceling before the end of the month with a full refund is also there. That is not the case in terms of satellite TV, in which they lock you in an annual contract. The prices sometimes go up and you are stuck with a larger cable bill.
It is important to note that cable TV services like Xfinity do not follow the annual contract system, but they are expensive to have. Here, we see another clear win for the streaming service.
Conclusion
By now you must have 4 ticks either on the cable TV or Streaming service side. If it's a 2 way, you can take into consideration some personal things. For example, how much time of the day are you traveling and how much time do you get to stream your favorite shows. You can also assess whether you watch live TV more or On-demand videos.
If you're not the sports and news channel type person, Video-On-Demand (VOS) services should be your pick. If you have the budget, Wi-Fi, and Devices to enjoy top-quality services, streaming TV might be the way to go. We also may have to factor in whether we have old people in our house who have trouble navigating through the fancy technology. With all this, you should be able to make an informed decision.