Internet is filled with ads and Hulu is no exception to it. If you have bought a Basic Hulu subscription plan then you will see all sorts of ads while watching your Favorite movie or Series. Thankfully, We have found a few methods that just work perfectly in blocking annoying ads on Hulu. Continue reading this article to understand the different ways to block ads on Hulu.
Hulu is an American On-demand Movies and TV series subscription service currently owned by Disney. The service offers you thousands of movies and shows for subscription fees of as low as $5.99 per month. The website also features content from Disney+, ESPN, HBO MAX, and Showtime for additional charges. The service is currently popular because of its series of Popular Shows and Movies. However, Even though Hulu subscription is known to be cheap, Hulu still monetizes it through ads and this is the #1 reason because of which people get so annoyed while watching their favorite content.
Commercial ads might ruin your experience while watching your Favorite show, These ads on Hulu are generally non-skippable and you have to watch the full ad before continuing with the Show. Fortunately, Netizens have already discovered a lot of working solutions to fix this issue and block or skip ads on Hulu. This article will help you understand the methods and their steps to successfully block non-skippable ads on Hulu.
Block Hulu Ads
Even though, it is not directly possible to skip ads until it is fully loaded and finished. Hulu has already clarified its ads policy for basic plans. Hulu basic plan and Hulu + Live TV, both the plans will have ads enabled in-between shows. However, it gets irritating when you compare Hulu with its other Competitors like Amazon Prime, Netflix. While these On-demand platforms do not show any ads, Hulu is filled with all sorts of ads that are not skippable.
Below we are listing a few methods that can help you to successfully block ads on the Hulu Streaming website.
Use Hulu Ad Skipper Extension
Hulu Adblocker Skipper extension is a well-known Chrome extension when it comes to blocking ads on Hulu. The extension is currently available on Chrome, Microsoft Edge, and other Chromium based browsers. Below are the steps to add and install the Hulu Ad Skipper Browser extension.
Step 1:
Click this link and visit the Chrome App Store Page. Click the "Add to Chrome" button and finally click "Add" button when the popup appears.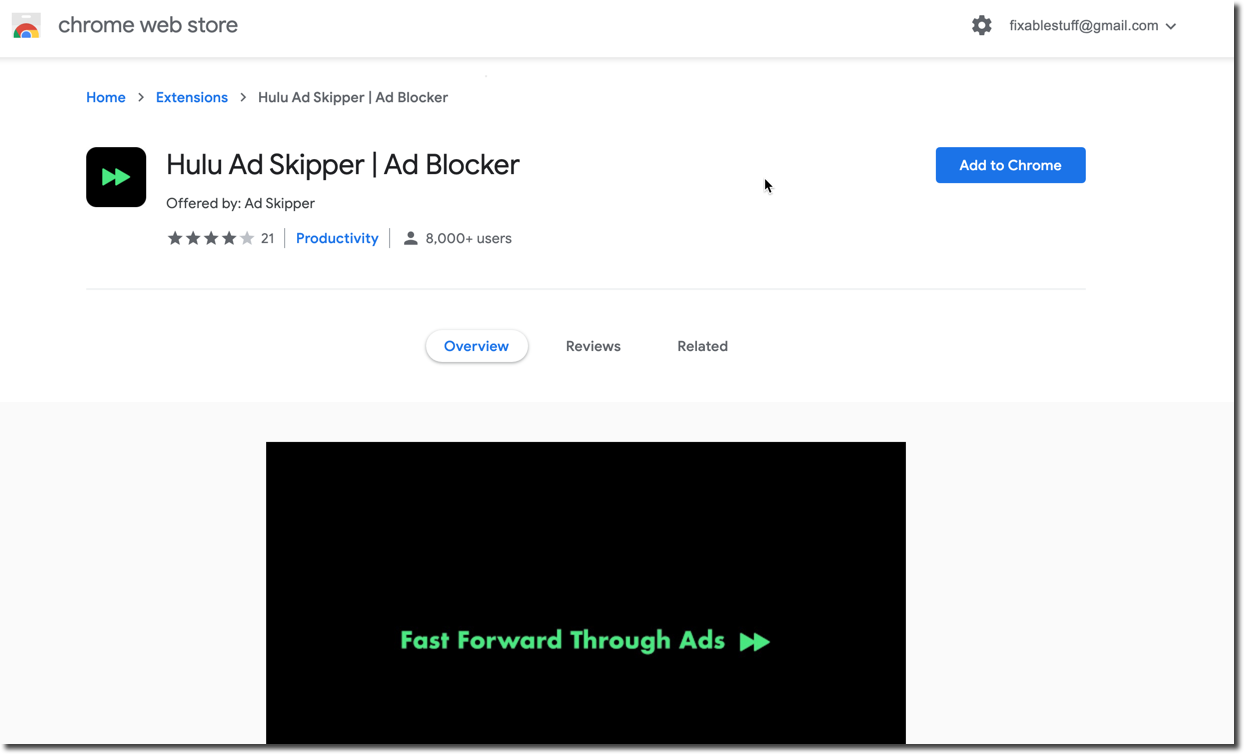 Step 2:
Once the extension is added to your browser, Visit Hulu.com and log in with your Credentials. Open any Show you want to watch. The extension will automatically detect and skip commercials and block ads when they appear on your screen.
That's it! This method is known to be working fine. However, if you face any issue while using the Ad skipper Hulu extension, Follow the next method.
2. AdBlock Plus – Block Hulu Ads on PC
This is another great browser add-on that works just perfectly in blocking the ads on Hulu. If you are using Hulu on Computer then it's great to have this extension. Adblock Plus not only block ads on Hulu, but it also helps you to block Twitch Ads and other ads appearing on the websites you visit.
Unfortunately, Adblock Plus does not directly block any ads, Rather, it adds a white blank screen to hide the ads. If you are fine with a blank screen rather than watching lengthy Hulu Commercials, this option is perfect for you. This extension might give you errors like Hulu video not loading, Video not appearing, In such cases, disable the extension temporarily and enable it after some time.
3. Enounce My Speed – Fast Forward Hulu Ads
Enounce My Speed is Software that helps you to speed up or slow down the playback of most of the Flash and Html 5 Players including the Hulu Player.
This Software is available for Windows that will help you to Fast Forward the Hulu Ads. It can easily trim 4 minutes Hulu commercials to just 30 seconds and help you to save your remaining time. If both the above-mentioned methods do not work for you, Try using Enounce My Speed and skip the Hulu Ads.
It is also important to note that this software is not free of cost and you might have to pay $29.99 for purchasing the License key. Luckily, they offer a 7 days trial period with Full features unlocked. If the software is working for you then you can opt-in for the premium one.

4. Use Two Tab Technique
This may sound a little bit tricky for you. To get rid of Hulu ads, you can open two tabs to watch the same program. Start with opening two tabs of Hulu. Mute the second tab and forward the show to the first ad marker (it usually comes in a different color on stream bar). Open the first tab and watch your movie. When ad starts to play on the first tab, mute it and go to the second tab.
Existing hulu users have already found a quick and simple trick to easily skip the lengthy ads on Hulu. The trick is not associated with any software or browser extension and is simple to perform. Follow these steps to Skip Hulu ads by opening two similar tabs.
Step 1: Visit hulu.com and login with your credentials. Next, click the show you want to watch and open the similar show link in another tab.
Step 2: Open the second tab and fast forward the video just before the first ad starts. You will also see the ad marker in different color on the Video Timestamp bar.
Step 3: Now move over to the first tab and start watching your video. As soon as you reach near the First commercial marker, Stop the video in the first tab and open the second tab.
Step 4: Click the mute audio button and click play button to start the video. As soon as the first commercial loads on the Second tab, Head over to the first one and resume watching the Show.
Step 5: The simple trick used here is that when Hulu plays the ads in the second tab, it automatically skips it in the first one, thus you can skip ads in hulu using this two tabs method.
How to Block Hulu Ads on Android
If you are one of the android users who is irritated with the Hulu ads, Well, you can block hulu ads on your Android device by using the Ad-blocker Apps. There are many ad blocker apps available on Google Play Store that will help you to block Hulu Ads.
Here are the steps to find a working adblocker for android.
Go to Google Play Store and click the search bar.
Type "Hulu AdBlocker" and hit the search button.
Select the first app and click the install button. Wait until the app is downloaded and installed on your mobile.
Click the App icon to launch it.
Go back and open Hulu on your Android and get the ad free watching experience.
How to block Hulu ads on iPhone/iPad
Unlike android and PC, Blocking ads on iPhone is little tricky. As the platform is not completely opensource and every app has to go through a strict approval process. It is hard to find any working solution for iOS devices. However, you can try searching and installing some existing Adblocker apps on your iPhone and check if they are able to block the Hulu ads on your mobile. Else, Try the browser method that we have given by opening Hulu website on Chrome.
Final Thoughts!
We Hope, This article helped you understand the various working methods available to block or skip ads on Hulu Video streaming service. Let us know which method worked for you by commenting below. If you get too much irritated with the Hulu ads then you can try upgrading your existing plan to an Ad-free version of Hulu and avoid 4 minutes long Hulu ads.
If you have any questions regarding hulu ads, please let us know.