Living out a heist in a video game is an almighty thrill for some people. It's something that we can't really do in real life unless we fancy serving some time behind bars. From planning the heist to the execution of it, a number of titles from the gaming genre have offered some truly memorable heist missions. These types of games provide the electrifying excitement many other releases simple struggle to achieve, too.
Over the years, heist missions have formed an integral part of a selection of smash hit releases. Some games hinted at a heist early on, while others surprised gamers with an unexpected robbery-themed twist as a level progressed. We have been treated to numerous heist-related titles in the modern-day too, similar to the likes of the Break da Bank Again Respin slot game, where players are tasked with winning real money in a revamped slot release that is filled with gold bars and stacks of cash. Likewise, other games from over the years have served up some memorable robbery-related entertainment also. With that in mind, below is a look back at some of the most memorable heist missions from a selection of games.
Golden Handshake – Hitman 2: The Bank DLC
Even Agent 47 needed to rob a bank in his time, although this particular mission centred around Athena Savalas and the need to dispose of her and find out some valuable information on her partners in the process. In truth, there were plenty of options in terms of what you could do in this particular scene, but committing a heist and escaping in an armoured car was a popular choice for many players of the game.
When Good Heists Go Bad – Saints Row: The Third
Saints Row: The Third went down a treat with fans and that can be largely credited to its first mission which immediately threw players right in at the deep end. The aim at the start of the game was to storm the Stilwater 1st National Bank and survive a brutal shootout with goons, before taking what's yours with the help of a helicopter. A SWAT team was ready and waiting, though.
Three Leaf Clover – Grand Theft Auto 4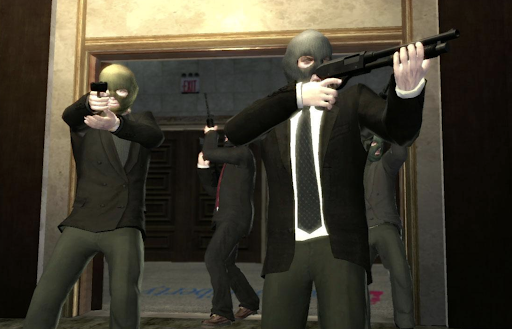 (Image via https://twitter.com/GTAonlineNews)
The GTA series of games should feature a heist or two given its chaotic nature, which is why fans of the franchise adored the simplistic brutality of GTA 4's mission to rob the Bank of Liberty. Playing as the main character Niko, players would have to take customers hostage in order to steal $1 million from the bank. It doesn't necessarily go to plan, though, with a casualty in the shape of Michael causing even more tension during the raid.
Panama Bank – Splinter Cell: Chaos Theory
Splinter Cell: Chaos Theory was packed full of action, but arguably its most memorable scene of all was the Panama Bank heist which gripped players. Finding your way inside the bank was easy enough, but being greeted by laser sensors and aggressive guards made the three different locks for the vault tough to get past. Once there, though, then stealing $50 million in order to find out who is working with the bank is a must.

Moonlighting – Mafia
Mafia and, more specifically, Moonlighting was a great experience for people who played the game. After a brief chat with Paulie, players had to pick up their car and rob the First National Bank. It was a short and sweet mission, too, with players having to simply walk in, take care of the security guards, and then escape with the two keys.