With the right knowledge, You can easily download twitch videos from your own stream or from someone else's Twitch Streams. There are many ways and tools that will help you to make this possible and in this article, we will let you know the easy ways and tools to download Twitch videos or streams.
Twitch is a popular video streaming platform with over 100 Million registered users and 15 million monthly active users. The platform also hosts around 2 million monthly active streamers. The platform helps gamers to stream their gameplay to their audience and earn a living from it. Many Popular streamers on twitch are already making more than a million dollars from streams using the Twitch donation option and sponsors.
As Twitch is mainly a video streaming and hosting platform, a lot of the viewers or streamers themselves want to download videos from Twitch and watch them offline. Luckily, All of the streams on the Twitch platform are saved as VOD (Video on Demand) and you can easily download these videos by following the methods given in this article.
How to Download Twitch Videos
If you are a streamer, then it is really easy to download your own Twitch videos using the inbuilt tools. These tools enable you to download your previous streams and use them on other platforms such as Youtube, Facebook.
For Viewers, There are many different methods that can be used to download twitch videos and streams. However, We will only cover some popular tools and methods in this article so that you don't have to waste your time searching for the working method.
Method 1: Downloading Your Own Twitch Stream Video
If you are a streamer and wants to download your own Twitch streams then it's easy for you. Firstly, Make sure that the "Save Past Broadcasts" option is enabled on your account. Here's how to enable it.
However, it is also important to understand that a regular Twitch streamer can only download the video within 14 days of its being recorded, otherwise, the video will be removed from the platform. Similarly, Twitch Partners, turbo and prime users get the ability to download the videos for 60 days.
Step 1:
Log in to your Twitch account and go to the dashboard page. Click the profile icon in the upper right corner and select the "Account Settings" option.
 Step 2:
On the Account settings window, Use the top navigation bar and select "Channel and Videos".
Step 3:
From here, Use the left pane and select Streams. Under the VOD settings, Enable the "Store Past Broadcasts" option.
Step 4:
Finally, Record your streams and you will see your future broadcasts are being stored and a download video button appearing.
Download Twitch Videos from other people's streams
For a regular viewer, there are many options to download Twitch videos of your favourite streamer. However, one simply can not download VODs directly from Twitch and you have to use some third-party tools to get your work done. Thankfully, these are free and safe tools and anyone can use them to download Twitch Streams or videos.
1. Using Twitch Leecher
Twitch leecher is a popular open-source third-party Twitch videos downloading tool that allows you to download any video from twitch servers. This app offers a practical and intuitive user interface that can be used to download single or multiple twitch videos. Similar to Twitch, Twitch leechers also has an active team of developers who constantly work on improving the tool.
This tool is also helpful for download long Twitch videos. So if the video you want to download has a length of more than 1 or 2 hours then you can use this tool to download large Twitch video.
Below are some simple steps to use Twitch leechers and download any Twitch video.
Step 1: Go to the Github Twitch Leecher repository and download the latest Twitch leecher's version.
Step 2: Double click the Exe file and open the software on your Windows 10 Computer. Once you open the software, you will see 3 options, mainly, Channel, URLs, IDs. you can choose any suitable option to download the Twitch Videos.
Step 3: Finally, click the "Search" button given at the bottom of the page and wait until it searches for the video. Click the download button below the video thumbnail and title to start downloading your Twitch video.
You can also use Twitch leecher to search for a specific channel and use additional filters such as highlights, Specific timeframe and other options to customize your downloading.
2. Using Untwitch
Untwitch is another popular tool specifically designed to download Twitch Streams and videos. It is really simple to use and you can get access to it by visiting untwitch.com.
Here are the steps to successfully download any video from twitch using untwitch.
Step 1: Visit twitch.tv and open the video from your favourite streamer's channel. Click the Browser's URL bar and copy the URL of that video.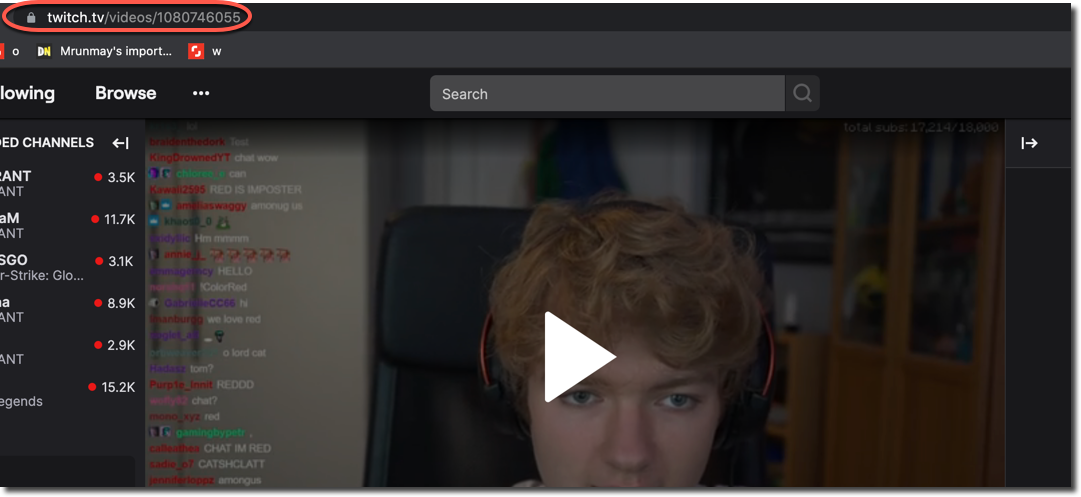 Step 2: Visit untwitch.com and Paste the copied link into the search box and click the Submit button.

Step 3: On the following Window, You will get various options such as Available video download format, Resolution, Timeframe and timeline scroll option. Select your options appropriately and hit the Download video button to start your video downloading.
Final Words:
Twitch is a fun place to watch your favourite streamer playing your favourite game. However, Downloading twitch videos will only maximize your fun and you can watch your favourite streamer without the need for an active internet connection.
Streamers can use the built-in option to download their own streamed twitch videos and users can use tools such as Twitch leechers and untwitch to download the twitch videos.