IoT or the Internet of Things sure adds value and comfort to our lives. By using smart devices at homes and offices, you don't have to get up for small tasks like heating up the oven, getting your coffee ready, or opening the blinds in the morning. With your mobile phone, you can control everything from temperature to air quality and locking doors. You can even make sure everything goes smoothly even when you are away.
However, as everything is connected online, meaning your personal information is stored in multiple devices – every IoT is a data hub. Therefore, these devices make the perfect target for cybercriminals to get access to the network.
That is why most people with smart devices use a Virtual Private Network (VPN) to encrypt and secure their devices.
A VPN is a great tool for securing your online privacy and security. VPN encrypts traffic and hides your real IP address, thus making your IoT devices impossible to track. One of the best VPNs for IoT devices is NordVPN, with military-grade encryption and security protocols. To learn more, you can read our dedicated test on NordVPN to see what it has to offer in terms of security and privacy.
Risks to your IoT Network
Although the use of IoT is growing rapidly, it still faces a lot of security and privacy issues. Here are some of the most common risks that your IoT network faces:
Risk of data leakage 
IoT devices are connected to your computers and laptops, thus the lack of privacy and security increases the risk of data leakage.
Compromises security of the entire system
As IoT devices are connected to a network where other devices are also connected, therefore, a security issue in one device can compromise the entire system.
Unauthorized remote access
IoT devices can be accessed remotely online, which creates physical risks in case unauthorized people get access. For example, a hacker can get access to your smart thermostat in your home to see if you are away or at home.
Theft of personal information
IoT devices on a network transmit personal information like name, password, address, and more without encryption. Hackers can even steal personal information from small devices like fax machines, or even coffee machines. Yes, according to the Chief Executive of Avast, hackers can steal your private information from a coffee machine that you control with your smartphone.
This is only just the beginning. IoT devices sure do make our lives easier, but they also pose some security and privacy risks that need to be addressed.
Tips to Secure your IoT devices and networks
Did you know in 2018, Kaspersky honeypots found 105 million attacks targeting smart devices. On that note, below are some simple tips and tricks to help you secure your IoT devices:
Change passwords regularly
When you buy a router device, don't use the default settings that the router device comes with at the time of buying – it makes it easier for hackers to access your device. Therefore, make sure to change the username and passwords regularly to keep them updated.
Also, it's best to avoid using your name or address as a username because it gives hackers a clue to get into your network. For example, most people name their routers as "House 201" or something similar which makes it easy to identify.
Use a strong password
Make sure to set a unique and strong password for your IoT devices. Avoid common words like "password" and random chains like "qwerty" or "123456" because these are easy to guess. Instead, use something unique – a complex password including various letters, numbers, and symbols. People also use password manager apps to manage their accounts and boost security.
Avoid using public Wi-Fis
When you are accessing your IoT using a mobile phone or a laptop, avoid using public Wi-Fi. Public Wi-Fi is not secure and it is easier to break into the systems that are connected to the network. Public Wi-Fi is usually offered by hotels and coffee shops, and the connection is used by hundreds of users which makes a good target for hackers.
If you are constantly on the move and have to use public Wi-Fi, we recommend using a Virtual Private Network. A VPN encrypts your traffic and makes it untraceable thus boosting privacy and security.
Use strong encryption for Wi-Fi access
Use strong encryption like WPA or WPA2 for Wi-Fi access in your home. To do that, you can go to your router setting and change the encryption method. It will help keep your network and IoT devices secure.
Check the privacy settings of your devices
Your IoT devices like security monitoring systems, laptops, home assistance devices, and more come with default privacy settings. You should review these settings and change them accordingly. Go through the settings thoroughly and make sure everything is in order. You don't want an open door for the hacker in your systems.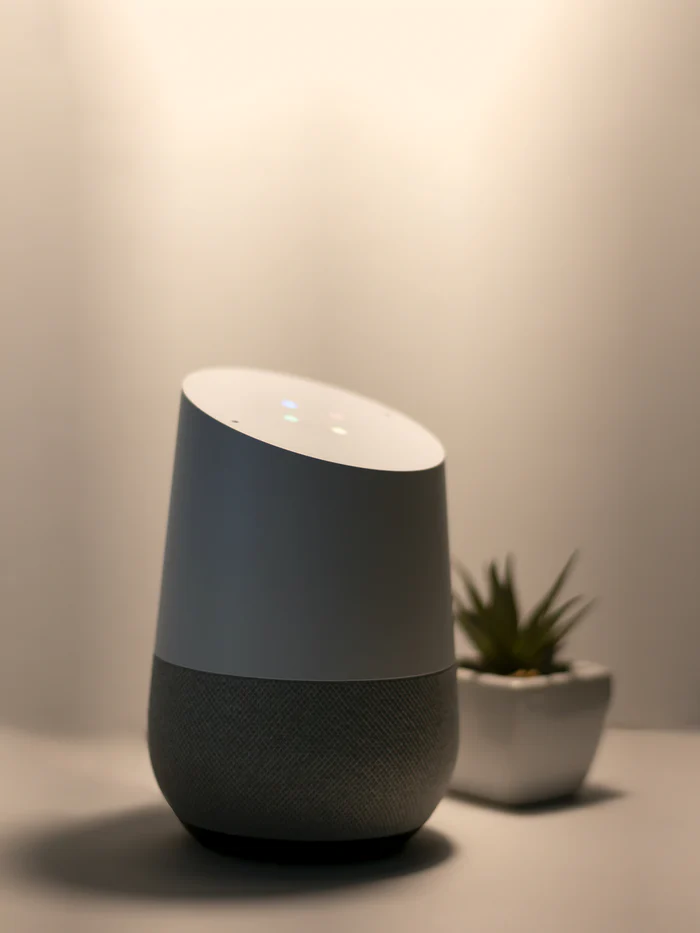 Keep your software up-to-date
This is the most common issue when it comes to IoT devices. Most people don't feel the need to update their smart home devices like Google Home and more because they feel it's not as important as updating their smartphones. When you receive the notification of a software update from the manufacturer, don't put it off because each update caters to a lot of security flaws and patches.
Therefore, make sure your mobile phones and smart home IoT devices are up-to-date all the time. If you haven't received a notification about the software update in a while, make sure to visit the website and check manually.
Use 2FA
The use of two-factor authentication is on the rise. Two-factor authentication is when you log in to your account, you receive a one-time code that is sent to your cellphone to get access. For example, in the case of Google Authenticator, you scan the code on your mobile phone to set it up, and every time you log in to your device, you will receive a code on your authenticator app. The code is self-destructive and renews every 15-30 seconds. Therefore, for the high security of your IoT devices, use 2FA.